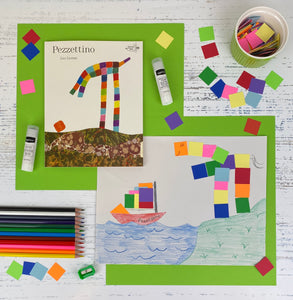 Pezzettino Craft Kit
Regular price $36.00 Sale
Pezzettino Craft Kit
Kit Includes: "Pezzettino," by Leo Lionni; illustrated directions in a folder; 5 sheets of paper (9 by 12); a bag of 1-inch by 1-inch colorful squares, 2 glue sticks, colored pencils, a pencil sharpener, and a ramekin to hold the squares (colors vary). For ages pre-school and up. The kit for 2 kids comes with an extra bag of colorful squares, an extra glue stick, and 2 extra sheets of paper. The kit for 3 kids comes with 2 extra bags of colorful squares, 2 extra glue stick, and 4 extra sheets of paper.
Optional purchase: art tray (colors vary)
Creator: Crafting Kit prepared by: Caroline Moulsdale, Owner and Lead Educational Consultant of ABC Crate, LLC, with Credentials in Early Childhood Education (Preschool and Kindergarten) from CMTE/NY, 2001; Elementary Education I (grades 1st to 3rd) and II (grades 4th to 6th) from Delaware Institute for Montessori Education, 2015; BS from The University of Delaware; Lead Teacher in Montessori Education for 18 years, and Parent Education Director for 8 years.